---
Description
Owner Nicole Dumelie has a passion for hair. Years ago she moved to Los Angeles and was fortunate to apprentice under world renowned colourist Louis Licari in Beverly Hills. Louis introduced her to the film industry with a focus on how hair colour can compliment an actor's character. It wasn't long before her skill in hair colour and colour correction was known throughout Hollywood by celebrity 'A-listers", Al Pacino, Meg Ryan, Farrah Fawcett, Susan Sarandon, Jodie Foster, Seth Green, Russell Crowe, Snoop Dogg and Ice Cube are just a few celebrities that can attest to Nicole's expertise.

Nicole returned to Regina where she and the staff at Salon 306 continue to set trends in hair style and colour techniques.
---
Recommendations
2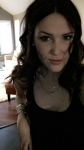 Lisa Mickler
Melissa Mark has been my stylist for years now and she is amazing! Salon 306 provides great service, friendly staff and a clean environment. I have never left disappointed!
Olivia Gosselin
Impeccable service, beautiful location - my experience was outstanding. I've had so many compliments on my dark brown and red ombré hair - thank you Braxton!
Please login to add a recommendation.